PEI Oceanfront Weddings - Amenities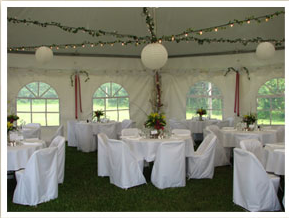 Imagine romantic walks across long sandbars as you cherish the memories from your special day.

This is where your journey as a married couple begins, and in your minds you will always return to this place with fond thoughts.
Just beyond Cape Traverse, Bells Point is a treasure of Prince Edward Island where you can surround yourself with natural coastline beauty as you dream of your future together. If you are a bride who always dreamed of a romantic outdoor wedding, our elegant oceanfront and garden settings are exactly what you are looking for.
On your wedding day, we will take care of all the details and make you feel as though you have your very own private piece of the Island. With a reception tent, waterfront access and an intimate garden, your wedding at Prince Edward Island Seabreeze Weddings is sure to be the perfect stage for the start of your life together.
We have everything you need to make your dream wedding a reality.